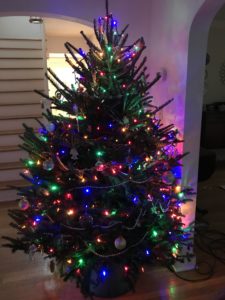 Now it is many many years ago that this happened. But it has never left me.
It was Christmas Eve and I was sitting at the Catholic church in my neighborhood in Nashville, Tennessee. I was there with my husband and two sons.
We had been Christmas shopping that day (the boys either young enough or kind enough to act like they didn't know that the fire truck we put in the cart WITH them was FOR them) and we would be going out to dinner at our favorite Chinese restaurant right after mass and then we would jolly the kids into bed so that we could get into a wrapping frenzy as we had inadvertently left ALL the wrapping to Christmas Eve. We were up till all hours, late enough to listen to the Pope's midnight mass (we referred to this activity as "wrapping with the Pope").
That sounds so idyllic, right? Just a lovely young family at Christmas—a little harum-scarum, but sweetly so.
What was wrong with that picture was that one reason we had been shopping that afternoon was that my husband had just gotten home. And not from a trip. He lived 600 miles away.
We were academics and sometimes it happened that academic couples had to live in two different places because it was hard to get two tenure-track jobs in the same place.
But that wasn't what was going on with us either, though sometimes we told people it was.
We had been struggling for a while with our marriage. Generations of alcohol combined with two artistic temperaments combined with academic careers and young children turned out to be a fairly combustible mixture. It had exploded the summer before in my husband's sudden departure, after a clandestine job search, for a far-distant campus.
As atonement for the crazy I had contributed and thanks to being in a program by then, I had decided not to do anything at all for the time being.
So there we were: we looked like a family. We sounded like a family. The boys were climbing on their dad like they could take him for granted.
But we knew what very few outside knew: it was the bright shiny wrapping on a possibly not-that-attractive gift.
Or maybe it wasn't—not deceptive, that is.
When I listened to the priest, who was a genius priest—and I was no Catholic—he was talking about his own failings. I'd been coming to this church regularly, looking for a spiritual life of some kind, for any port in the storm of my broken family, my grieving children, my career that had run right off the tracks, and I knew the priest's story. He had been an alcoholic, a sinner in every way. He told us this about himself. It didn't make him any less likable, I decided. In fact, I liked him more for the honesty. He'd been sober and in a program for any years but he had not become holier than anyone. In fact, his compassion seemed to have only deepened with time.
He spoke that Christmas about how fraught the season was, with the families being together in all the great hope of family perfection and the terrible experience of deeply disappointing imperfection in so many cases.
And yet here we are, he said, together. Sitting side by side with people we love. With all their terrible flaws. And all their amazing greatness.
And we could choose which one we surrendered to—the resistance or the love. We could choose in this moment and choose differently at another time. But it would be good to see them in their terribleness and their greatness all at once, just for now.
So I looked at my husband—whom I loved deeply—and my sons—whom we both truly adored—and I let go into that love.
We ended up divorced and there was worse to come. But I have never, never regretted that love.
So this year we can yield to forgiveness, or we can keep on bearing a grudge.
Life is a gift, creativity is a gift. What I knew at that moment was that grudges, fears, and resentments stand in the way of gifts.
The hardest forgiveness of all to come by is self-forgiveness. For all the things we didn't do, for all the rotten things we did do, for the chances missed and the gifts ungiven. For how small we played, how mean we were to someone, how we got distracted, or how we tolerated the intolerable—or were unforgiving to someone we loved.
We can start that ball rolling by forgiving ourselves, by accepting ourselves in all our greatness and terribleness. We can forgive ourselves for being human. And then see where that great, soft fall into grace takes us with the people we love and the gifts we have to give.
(If you're hungry for more, here is another essay somewhat related, on My Most Important Day)