On this the twentieth anniversary of Harry Potter's first appearance, we all have the right to dream of wild publishing success. Not only was the story wonderful, but the story of the story is wonderful to a writer. Rowling, a single mom with no real background in writing, had a vision of a seven-book series that arrived pretty much intact, she tells us, and she just let it unfold year after year.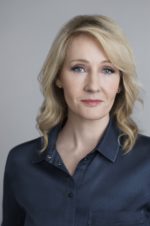 It astonished readers, young and old alike, and was almost instantly an enormous success. And it also the astonished the publishing world. Roundly rejected at first, the book was recognized by someone at a relatively small press in England who saw the beauty of the book and went for it, thus garnering long-term unimaginable commercial success for what had largely been a literary publisher and the lifetime loyalty of one of the most gifted writers of our time.
How can we not dream that this will come to pass for all of us?
We should not ever stop dreaming that dream–because that is just how Rowling did it: she didn't stop dreaming the way she had as a child. She never gave up. When life seemed to be at its most dismal, she had the gift of nothing left to lose, so she went for it.
"To dare is to lose one's footing momentarily. Not to dare is to lose oneself," Kierkegaard tells us.
So should we all dare as Rowling dared.
But that doesn't mean, necessarily, that we don't need and want to have our eyes open just a bit.
It is important to build castles in the air, Thoreau tells us. Then "build the foundations under them, " he continues.
If you haven't had Rowling's success yet, do not despair. There are some foundations you can be putting in place under those airy castles.
One is to calibrate your expectations to your willingness to put in effort. It sometimes happens that people who have not gotten a lot of training and practice can write a breakout book. But it is much more the case that people have been training and practicing a long time. Elizabeth Gilbert's Eat, Pray, Love happened after a long career as a successful, high-level journalist. Glennon Doyle Melton broke out with Love Warrior after practicing and honing her craft for years with a successful blog. Both has practiced–and tested–their voice and message for a long time before they became an "overnight sensation."
Just about anyone can enjoy success at the hobby level of writing–and can get a very satisfying publication.
Many people can do well at the mid-range level of writing–self-publishing well or working with a good small press.
And a few people make it to the pinnacle–commercial publication or breakout self-publication that reaches to the tens of thousands of readers and more.
Like most things in life, with a few glorious exceptions, writing gives back what you put in. Time, treasure, and talent are the three T's that are called for in the world of writing success and the measure of the investment is often the measure of the success.
Declare your right to the freedom to dream your writing dream!