"It Takes Courage Not to Be Discouraged"
Click here to read Part I and click here to read Part III of The Art of Hope series.

Once you decide that despair about writing your book isn't an option—far, far easier said than done, but you can make the decision, then chip away resistance—it is time to look around for writing hope.
I have recently been working with a fitness coach who has given me advice that I've been able to apply liberally to many areas of my life and work. I have even lost weight!
Jonathan Roche is an online fitness coach with Breakthrough Wellness (I'm NOT an affiliate so I get bupkes from talking about him) that I followed for years.
Then, frustrated by the way pounds were rolling on without any sign of their rolling off again, I hired him for some personal coaching.
I've learned so many things from him it's mind-boggling, but the one thing I have really, really struggled with is his insistence that I set very ambitious goals.
Isn't this the way to failure?
To try try try and then fail?
It's a bazillion dollar industry—weight loss and fitness—that COUNTS on people failing. If everyone who signed up for the gym actually went there would be NO room at all for many of them….
So why does anyone even try to lose weight or get fit? Because we might die earlier than strictly necessary and on the way there not look that hot.
I would argue that the failure to create art is equally hazardous to your health. Your spirit might die. That happens. Look around you.
So how do we keep on having high hopes about writing and publishing when the odds are so dreadfully against having the kind of success might dream of?
I'm so far from perfect about my fitness and weight loss program that I regularly check with Jonathan to see if he is going to fire me. He isn't.
And I'm so lame about my writing habits sometimes I wonder why I don't stop that too.
As I was kickboxing my way through a workout with Jonathan on my computer this morning he reminded me that we aren't here forever. We can put off our dreams and then find that time ran out.
Or we can start now, where we are. Jonathan talked about a 74-year-old woman who just joined her church's softball team. It's never too late—until it's over.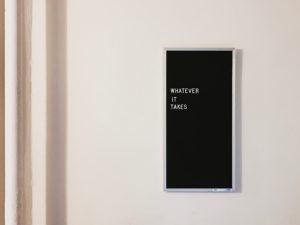 What I have learned specifically from Jonathan is that really ambitious goals are great—and doable. The way to get there is by regular, steady steps.
I'm going to talk about those in the next blog.
What are your roadblocks to getting your novel or memoir done?