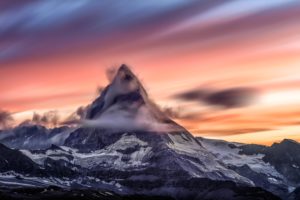 (Photo by Sam Ferrara, via Unsplash)
If you have ever tried to find an agent to represent you and your books, you might have come away with the impression that it is as hard to get a literary agent as it would be to scale the toughest climb in the Alps, the Eiger.
There are reasons why people believe this–and there are parts of the journey that DO resemble attempting to dig into hard, cold stone.
But that is not necessarily the way it has to go. It depends, as so much else in life does, on preparation.
Here are the steps, taken in order, for how to address yourself to this challenge.
First, ask yourself if you actually need an agent.
Next do your research.
Then write an outstanding query email.
Be sure you have an excellent synopsis ready.
And, in the case, of novel or memoir, have the complete manuscript ready to go, in as good shape as you can get it.
I'll take these ascents one at a time.
You need an agent if you have a book that will sell in the mainstream publishing world or the upper echelon of small presses. Agents aren't paid–they work on commission. So they are going to represent books that are pretty sure to be bought at the higher prices in the mainstream publishing world, thus getting them a reasonable income. This makes sense, right? If you have a how-to book in an category that is selling well, or if you have an outstanding novel or notable memoir, you will want to try to get a literary agent to take your book to editors in the publishing industry and to negotiate the contract from the advance through the subsidiary rights. You do NOT need an agent if you are going to the smaller presses or if you are going to self-publish.
Research, research, research. And then do some more. Subscribe to Publishers Lunch, the free industry emails that tell you what is going on in the publishing world. You can ignore most of them, but do review the Lunch Weekly email that tells you what new books have been bought by whom (publisher) as represented by whom (agent). Go to the bookstore and look in the foreword of books that are like yours. Authors practically invariably name their agent in the acknowledgments. There are other ways of finding this out, but this is the most pleasant and involves going to the bookstore. Then research the agents you've chosen deeply. Study their guidelines and DO NOT DEVIATE FROM THEM. Agents can have quirky requests and you need to just go with them. While you are on the website, see what conferences the agent is attending and go to them. This is THE best way to approach an agent.
However you approach an agent, do so with a very nice, polished pitch. This can come face to face at a conference agent pitch or it can be the pitch email known as a query. In the pitch, give the category, the main character, the place, and the problem–the main conflict–in one smooth brief presentation. Then give two comparisons in current literature. I've heard lately that one of these should NOT be Harry Potter. If you've chosen the right agent, they will be familiar with the comparisons that you use. Here is a successful pitch I used: "How Death Comes Between Us is a literary thriller in which Claire Grant is a graphic designer recruited by a big Houston oil company when they find out she is the artist behind a media-grabbing guerilla environmental campaign against their latest spill. She accepts the offer, leaving behind her young son, because her newly sober husband has left them financially devastated. Oil, money, art, the earth, power and private worlds come together and combust in this novel that echoes the careful intelligence of Elizabeth Gilbert's The Signature of All Things and James Lee Burke's dark Gulf Coast thrillers."
Have a synopsis ready to send to the agent. If you are emailing the query, you can attach this if the agent's guidelines tell you to.Go here to read about how to write one, according to Jane Friedman. Synopses are not easy to write, so allow time to work on this and polish it. It needs NOT to be a plot summary. There should be a theme you are tracking in it. But also do NOT pull any punches–tell the whole story and don't try to create suspense here.
If you are invited to submit a "partial" or "full" manuscript (rarely in the first round but only after the agent has indicated interest), then have one that is totally and completely finished, polished, in standard manuscript format, and without any extras like your own illustrations or cover. Just the simple manuscript with a great story in it.
And then there you will be: you have reached the top of the mountain.
(Of course, if you need any help along the way, schedule a talk with me: we will map the ascent.)