I was listening to an agent (@Christopher Rhodes) last night at the James River Writers February Writing Show and he reminded us that even the most literary novels have to have the most basic of ingredients: a plot.
Which got me thinking about that even the most literary of novels and memoirs have to have a conflict.
Which led me inevitably to the next leap, which is that the best highly-plotted novels have to have characters who are involved in a conflict–externally (which IS the highly-plotted part) AND who are also internally conflicted.
Take my favorite example: Jason Bourne. (Be still my heart: there is a Bourne 5 coming out this summer!)
Jason Bourne has a BIG conflict: some people are trying to kill him. Quite a few of them, many of them, it turns out, his erstwhile friends and colleagues.
But what makes the Bourne books stand out from the crowd of good thrillers is that Jason has an INTERNAL conflict as well: his identity. First, it is a superficial problem–he doesn't know who he is. But then it becomes a more existential issue: he is no longer who he thought he was--a paid killer–and yet he is being held to account for that former identity. This conflict is of such high value that it costs him the life of the woman he loves.
Now THAT is how to do conflict.
But we aren't all writing thrillers–or are we?
In a sense to have a plot means to have a mystery–a problem introduced at the beginning of a book that will be resolved by the end. All books, including memoir, have to have this. It is what keeps readers reading. (Think about Elizabeth Gilbert's bathroom-meltdown scene at the beginning of Eat Pray Love).  It is why Christopher Rhodes isn't interested in "literary novels" if the definition means that there is no plot–because these don't sell and, thus, aren't likely to be published by anyone who is hoping to make a living.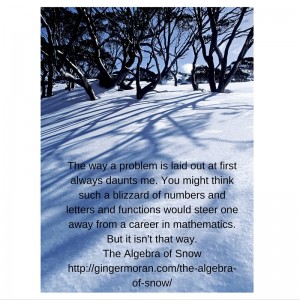 My own novel, The Algebra of Snow, is a highly literary novel–a woman mathematician spends a winter alone in the Adirondack Mountains and, frankly, not much happens. But the highest praise I have gotten for the book came from Diane Halvorsen, a very experienced reader, who saw in it a psychological thriller. The internal conflict has to do with Amelia's crumbling marriage, and, deeper, down, her mother's death when she was young. And the external has to do with whether or not she is going to survive the harrowing her soul goes through in a cold, isolated winter.
So–how do you create characters who will capture your readers attention and keep it? Conflict–and lots of it, inside and out.
I'm going to be talking about this and other techniques for writing good characters in novels and memoirs during a free phone call March 14. Seating is limited for this call so sign up soon!